FlyBase:New to Flies
Jump to navigation
Jump to search
FlyBase is a database of genetic and molecular data for D. melanogaster and other Drosophila species, targeted to an audience of research professionals. The resources listed here may be especially useful to those new to flies.
For a quick look at answers to common issues, check out the Frequently Asked Questions page.
Learning how to use Drosophila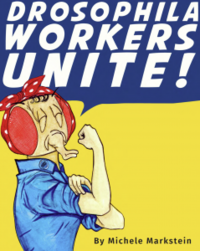 A basic introduction to Drosophila can be found at these websites:

Online books:

The Manchester Fly Facility has a large compendium of Drosophila-related links for the public, educators, and students. These include information on Drosophila as a model system, general fly-related info, Drosophila movies and images, fly-related equipment, tools, and materials, information for teaching Drosophila at schools and universities, and the history of Drosophila research.

On our Twitter @FlyBaseDotOrg, we post Tweetorials: threads that provide a guide to a feature, resource, or tool at FlyBase. You can view the Tweetorial index on the wiki here, or see them directly on Twitter using the hashtag #FlyBaseTweetorial.
Learning Drosophila genetics
Online guides:

Computer-simulated genetic experiments can be performed at the following sites:
External Resources on the FlyBase Wiki
We have an extensive collection of links to external sites, organized by topic on our External Resources page, including things like:
How to use FlyBase
FlyBase FAQs (Frequently Asked Questions)
All of FlyBase's publications and presentations are on our wiki, and are a great starting place for learning how to use more of FlyBase's features.
If you have questions, please don't hesitate to contact FlyBase directly.
Social media and online groups
Twitter accounts: see our account at @FlyBaseDotOrg, and check out other accounts that it follows, like the Alliance for Genome Resources @alliancegenome.
The Alliance User Community Forums include fly-specific discussions, as well as job posting, positions wanted, and meeting announcement forums.
Archive of the bionet.drosophila discussion group: for a historical perspective of 26 years of Drosophila discussion online.